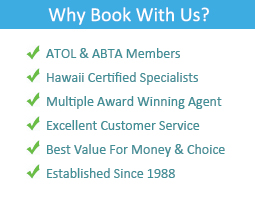 Customer Comments
Brilliant time

We had a brilliant time in Hawaii going to kauai, Honolulu and Maui. We were treated very well at the hotels we stayed in that you have obviously booked from lots of time before as we enjoyed room upgrades, champagne, chocolates and Hawaiian popcorn which was a very nice touch

Leiu
Our dream holiday

I would like to thank you for booking our holiday, it was amazing.Everything went to plan,no delayed flights,hotels all excellent....Thanks again for getting us our dream holiday.

H.Iwansky

View other clients feedback
MAUI HOLIDAYS

Holidays on Maui, Hawaii
Maui & Big Island Holiday
PRICES FROM
£2095
per adult
Based on 2 Adults sharing
Selected Travel dates in 2020
Flights with United from the UK to Maui
7 nights at the Kaanapali Beach Hotel Maui
6 nights at the Royal Kona Big island
Return Flights

The Hawaiian Island of Maui is the second largest Hawaiian island with the main airport located in Kahului with all the major airlines arriving there from America and Canada.

We at Charter Travel are proud of our reputation for arranging the best flights for our clients including stopovers at various cities throughout the USA.

Our specialist travel team have every available option at their disposal with vast choices and prices to offer. Many travellers from the UK will take advantage of a stopover in one of the big cities before travelling on to their main destination. For many it will be a golden opportunity to combine the excitement of a few days in the city of San Francisco, Los Angeles, Las Vegas or New York followed by a holiday on the Hawaiian Island of Maui.

Being a tropical island, the temperature average is fairly constant from between 75 Degrees Fahrenheit and 90 Degress Fahrenheit. There are miles and miles of accessible beaches for swimming and the varying shades and colours of the sand from white, green, black and gold is evidence of the island's ancient volcanic activity. Within the National Park is the Haleakala Volcano and this is the largest dormant volcano in the world.

Charter Travel can arrange a tour or car hire for that amazing winding drive over 3,000 metres to the summit and will advise on all aspects of this exciting excursion to make sure you are well equipped for the journey. Many visitors set off in the early hours of the morning to watch the sun rise from the summit - an unforgettable sight and there are three visitor centres within the park to provide you with all the information you need. Horseback riding is available for the more active as well as cycling and plenty of golf courses to choose from. If you take a tour around the island you will be aware of the many waterfalls, among them the second highest in the United States.

There is a delightful choice of accommodation on Maui including Makena Beach and Golf Resort situated in South Maui, and in West Maui Kaanapali with luxury hotels and vacation-club resorts providing the convenience of a paved beach walk connecting the hotel, condo and open-air restaurants including a beachfront shopping complex and museum, golf and plenty of water sports to choose from.

The Maui Coast Hotel is located opposite a wide stretch of beautiful award winning beach and is a favourite destination of tourists.

Many keen photographers and birdwatchers will delight in the refuge at Kealia Pond to observe the endangered wetland birds and during August to April there is a great opportunity to watch migratory birds from as far away as Alaska and Canada. The refuge is a 15 acre marsh and is situated on a narrow plain at the foot of volcanic hills.

There are thousands of humpback whales around the island, some reaching as long as 45ft. Charter Travel can arrange special cruises on luxury yachts to view these magnificent animals.

If the above appeals to you or you would like further choices our experts at Charter Travel are there to discuss all the options with you so call us now on 01635 551011.
The itineraries shown are just some of the suggestions for your planned trip. If there is too much choice, you are not sure where to go or what will fit your budget, submit an enquiry and tell us what you are looking for, where you would like to go and your ideal budget and one of our experienced travel specialists can help you in perfecting your dream tailormade holiday.